High Holy Days Schedule click here…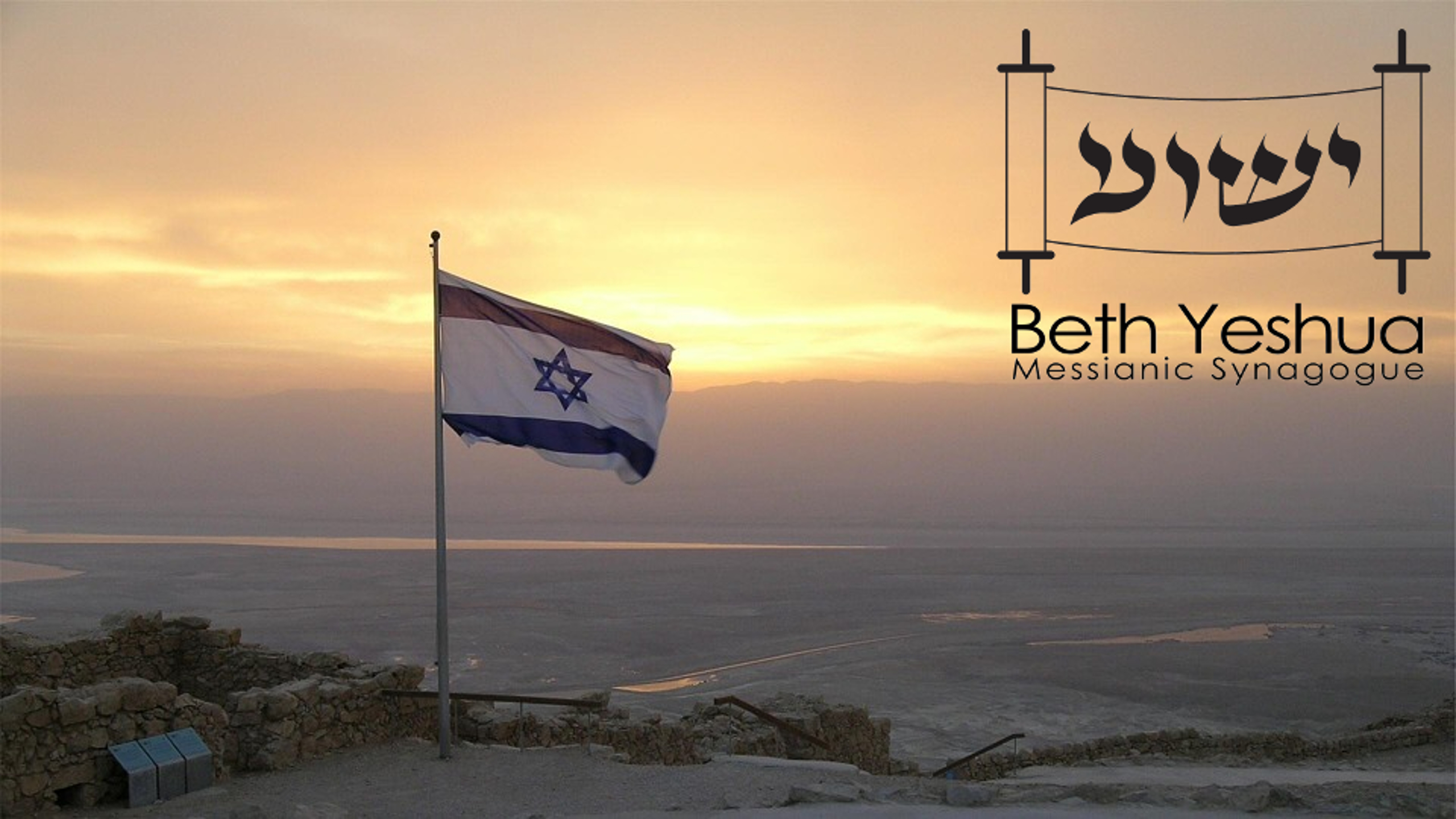 ---
An Important Message from the Rabbi
May 26, 2020
Shalom Mishpocha (Family)!
I hope you have all survived and weathered the COVID storm that has brought such incredible hardship and compromises to our lives over the last few months. In our community, where our fellowship and our gatherings are so important to our identity and our assurance and security in the Kingdom of Adonai, it has been an extraordinary trial for us to suspend our services.
Adonai has given us insight and has blessed us with the ability to put a modified version of our services on YouTube and Facebook. This was an aspect of our ministry that we had never done before, but we were greatly blessed, with knowledgeable friends, generous resources, and the spiritual courage to venture into new pastures, into the realm of online ministry. We have seen much growth in the online community that follows our services and interacts with us from long distances. As the weeks progressed, it became imperative that we commit to continuing the online services even after we resumed open services.
We have eagerly waited for the timing to be right for us to open our services up again. There are many complex factors to be considered and weighed in the balance to determine what "seems good to the Spirit and to us" (Acts 15:28), and how to move forward. After much prayer and discussion, we have come to believe that we have adequate permissions from the local and federal governing authorities, that we will not add to the risk of the growth of COVID in the local community or at Beth Yeshua, specifically, and that in keeping with the priorities expressed in the word of Adonai (Leviticus 23:3 "…the seventh day is a Shabbat of solemn rest, a holy convocation. …It is a Shabbat to Adonai in all your dwellings.") that without compelling reasons in the contrary, it has indeed become time to resume services.
We will be resuming our services this Shabbat, Saturday, May 30, 11:00am. This will also be Shavuot or Pentecost as it is referred to in Greek (Shavuot = Weeks in Hebrew, Pentecost = fiftieth in Greek).
There are several instructions and guidelines that we will be implementing for the foreseeable future, as we move forward. First, let me say emphatically that regardless of any other factors, we will continue the online services. This means that if you have any health conditions that will make you vulnerable in a social setting, you can stay home and continue to fellowship and worship with us through our online services. If you are elderly, and at greater risk, then you are encouraged to stay home and join us online. If you are ill for any reasons, or are immuno-compromised for any reasons, we recommend that you continue to join with us from your home with our online services. Up till now, we have been pre-recording the service and then releasing it on YouTube early Shabbat morning for people to enjoy. Starting this week, we will be transitioning to "livestream," where you are effectively watching the program as it happens. So if you are joining us at home, it will have the further benefit of being "live."
Also, if you work in an industry, such as certain parts of health care, or home care workers, and you feel it is not prudent for you to be in social contact with other people, then we recommend you join us from home.
Now, for those who will be joining us on Shabbat, we have the following guidelines:
If you have any of the following symptoms: cough, shortness of breath, difficulty breathing, or any 2 combination of chills, shaking, muscle pain, headache, sore throat, and loss of taste or smell, please refrain from attending services until such time as your symptoms have ceased.

Social Distancing practices will be observed. We have rearranged the seating such that there can be 6' minimum distance between congregants. Unless you are a family unit, we ask that you not sit together, that you maintain 6' separation. The sanctuary can accommodate around 60 people in this fashion. We will also open up the Annex for an additional 20-30 seats. The Annex will be able to join our livestream program on a large screen television.

We encourage you to refrain from handshakes, hugs, and kisses.

Hand-sanitizer will be available throughout the sanctuary. Please use.

We encourage you to refrain from touching the mezuzah (for those who keep this custom).

We will not be having Shabbat School or Nursery at this time. The cry room will be available for you and your child if your child needs some "wiggle room."

We will not be processing the Torah.

We will not be having an Oneg meal at this time.
Now, all that being said, this Shabbat is also Shavuot. Shavuot is a very significant day on the Jewish calendar, and it is a very significant day in the messianic community as it was the day that the Ruach came in fire on the believers gathered Jerusalem. I am excited about what Adonai is going to do in our service on Shavuot and going forward. Let's allow the restrictions and guidelines to operate in the background, for the benefit of all, without frustration or distraction, and let us move, let us press on into a greater knowing of His Ruach as we gather in congregational worship in the presence of Adonai. This is something that has been absent in our lives for the last 10 weeks. I am super-confident that this will be a grand reunion.
Blessings in Yeshua HaMashaich,
Rabbi Scott Fingerson
---
Welcome to Beth Yeshua
At Beth Yeshua, we as Messianic Jews believe Yeshua (Jesus in Hebrew) is the Messiah.Messianic Judaism is a movement of people from all walks of life who believe that Yeshua is the promised Messiah and the Savior for Israel and the world. Messianic Jews have not stopped being Jewish. On the contrary we have continued to remain strongly Jewish in our identity and lifestyle, and in our belief that Yeshua is the Jewish Messiah and the fulfillment of true Biblical Judaism.
Messianic Judaism differs from Modern Rabbinic Judaism in that it predates the destruction of the second temple (70 CE) and focuses on the requirements for the Sacrificial System according to Torah (the five books of Moses). After the destruction of the Temple, the Rabbis reorganized Judaism adding many new laws, rules, and traditions. Today, their writings and commentaries (the Talmud, etc.) form the foundation of Rabbinic Judaism.
Messianic Judaism relies totally on the Scriptures. Our faith is the Judaism of the Bible (Biblical Judaism) and is centered around the Messiah and the worldwide salvation He brings. We have direct access to HaShem (G-d) because of the great atoning work of the Messiah Yeshua who is the fulfillment of true Biblical Judaism.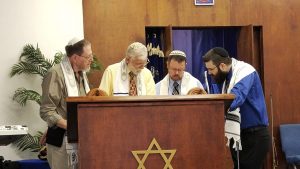 Historically, Yeshua was Jewish. He was raised in a Jewish home and ministered to the Jewish people in a Jewish land (Eretz Israel). The disciples were Jewish.  The apostles were Jewish. The writers of the Brit Hadashah (New Covenant or New Testament) were Jewish, and for a time, the faith in Messiah Yeshua was almost exclusively among Jewish people.  It is estimated that more than one million Jewish people in the first century CE believed that Yeshua was the Messiah.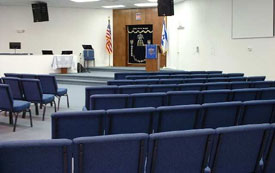 Messianic Synagogues are the heart of the Messianic Movement. Beth Yeshua Messianic Synagogue is a place for Jewish faith in Messiah Yeshua. Standing with us are many non-Jewish members who have a burden and love for the Jewish people. They understand what G-d is doing among the Jewish people, and have a "Ruth-like" calling to G-d's chosen people.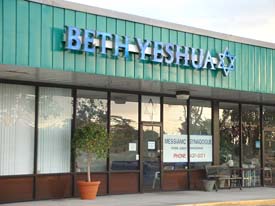 Finally, we wish to invite you to join with us. All Jewish believers need to consider the importance of continuing to live as a Jew and not assimilate away from His Jewish people. We have an eternal Covenant with G-d that goes back to Abraham. G-d has a purpose and calling for the Nation of Israel, and this covenant relationship is eternal ~B'resheet (Genesis) 17:1-8.
Everyone, whether Jewish or Christian, are welcome to join us at any of our services. Our seating is always free and unassigned.  We are also a great place for fellowship and worship for inter-faith families.
IT'S ALL ABOUT G-D AND MESSIAH!